Hi everyone, and welcome to Vocal Arts, the podcast that explores the world of professional voice artists. My name is Peter Barber, and I'll be your guide along this path of vocal performance. What's that? Oh, why am I qualified to host this show? Well, for starters, I got my master's degree in, you guessed it, "Vocal Arts and Performance" from the University of Southern California. I trained one-on-one with world-class singers, and learned all about the physiology and function of the human voice from leading voice scientists. Beyond that, I currently sing opera professionally as a Resident Artist at the Academy of Vocal Arts. Since quarantine started, I began producing my own a cappella music, from arranging and recording to mixing and mastering. I've performed in basically every genre from EDM to chamber choir, and with an undergrad major in audio engineering, I can comfortable bridge the gap between live performance and studio recordings, from the grandiose space of a 3000-seat opera house to the intimate, sound-proof booths used in voiceover. But perhaps most importantly, I'm just a young artist, fascinated by the various careers in vocal performance, and inspired to learn more about them from the best and brightest vocal talent the world has to offer. Thank you so much for joining me on this journey, and no matter what your involvement is within the world of vocal arts, I hope that here, on this podcast, you can both learn something and enjoy. This is Peter Barber, and I'll see you next time on Vocal Arts.
Episodes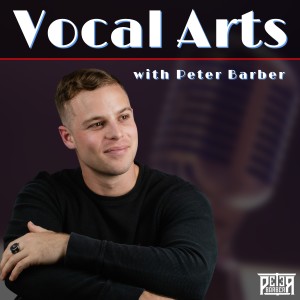 Monday Jul 19, 2021
Monday Jul 19, 2021
The Bass Gang is a group of four bass singers, thriving in virtual collaboration from all corners of the planet — Bobby Bass from Connecticut, Tomi P from the Czech Republic, Marwan Ayman from Egypt, and Peter Barber from Virginia. During the COVID-19 pandemic, The Bass Gang assembled for their premiere project, entitled, "May the Bass Be With You," covering four songs by the worldwide sensation, Billie Eilish. So far, May the Bass Be With You has yielded nearly 100,000 views on YouTube, tens of thousands of plays on streaming services, and tens of thousands more on Instagram and TikTok. Needless the say, The Bass Gang's reputation has quickly permeated throughout the online bass and a cappella communities. With merchandise on the way, as well as plans for future collaborations, The Bass Gang is here to stay, and the buzz around them has only continued to snowball since the their first project came to completion.
In this podcast, we talk about how The Bass Gang started, how we pulled off enormous virtual collaborations from around the world, why we chose Billie Eilish, our whirlwind experience from the onset of the group in January through the culmination of our first project on May 31st, as well as a host of questions provided by BSN, the Bass Singing Nation discord server, without which, The Bass Gang would've never been founded, Please welcome The Bass Gang.
My Merchandise Store on Etsy: https://www.etsy.com/shop/PeterBarberMerch
Comments
(1)
To leave or reply to comments, please download free Podbean or