Hi everyone, and welcome to Vocal Arts, the podcast that explores the world of professional voice artists. My name is Peter Barber, and I'll be your guide along this path of vocal performance. What's that? Oh, why am I qualified to host this show? Well, for starters, I got my master's degree in, you guessed it, "Vocal Arts and Performance" from the University of Southern California. I trained one-on-one with world-class singers, and learned all about the physiology and function of the human voice from leading voice scientists. Beyond that, I currently sing opera professionally as a Resident Artist at the Academy of Vocal Arts. Since quarantine started, I began producing my own a cappella music, from arranging and recording to mixing and mastering. I've performed in basically every genre from EDM to chamber choir, and with an undergrad major in audio engineering, I can comfortable bridge the gap between live performance and studio recordings, from the grandiose space of a 3000-seat opera house to the intimate, sound-proof booths used in voiceover. But perhaps most importantly, I'm just a young artist, fascinated by the various careers in vocal performance, and inspired to learn more about them from the best and brightest vocal talent the world has to offer. Thank you so much for joining me on this journey, and no matter what your involvement is within the world of vocal arts, I hope that here, on this podcast, you can both learn something and enjoy. This is Peter Barber, and I'll see you next time on Vocal Arts.
Episodes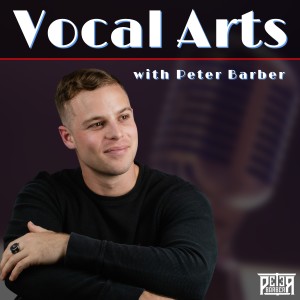 Monday Jul 05, 2021
Monday Jul 05, 2021
At age 26, Veronica Swift has become one of the world's most sought-after jazz talents. At age nine, she recorded her first album, and began professionally touring with her parents, as well as The Young Razzcals Jazz Project. At age 11, after recording her second album, she headlined her first show at Dizzy's Club Coca-Cola at Jazz at Lincoln Center. Just before graduating from the University of Miami, Veronica was awarded second place at the Thelonious Monk 2015 Jazz Vocal Competition, landing her a showcase at the esteemed Birdland Jazz Club in New York City, where she maintained a weekly residency while touring internationally with famous trumpeter, Chris Botti. Over the past few years, Veronica signed a record deal with Mack Avenue Recordings, and released her 2019 album entitled, "Confessions" with them. She has also toured and performed on numerous occasions with Michael Feinstein, Benny Green, Wynton Marsalis, and the Jazz at Lincoln Center Orchestra, appearing at many of the world's legendary jazz festivals and clubs.
Veronica and I go way back, all the way back to 6th grade at Henley Middle School. A simpler time, and a more awkward time to be sure, but it looks like we've both turned out okay. We cover a lot of ground in this conversation, discussing what it means to be a storyteller, to be an artist, the comparisons between jazz and operatic lifestyles, international tours, going to school in Miami, and much more. We went out to dinner the day after this interview, and she casually clued me in that the week prior, she went out to dinner with Sting while she was in New York. I'm obviously a much more exciting dinner date than Sting, but save some fame for the rest of us, would ya? Please welcome Veronica Swift.